Its ability to stay hidden from the target person makes it even more reliable; you can stressfully read the conversation taking place over SnapChat. Undetectable, good customer support, advanced version, and modified features, what else users wish for in a spy app. You wish to see every detail of SnapChat messages, videos, call history, etc. And paying separately for all SnapChat information is something that none of the users wants. The truth spy will save your extra cost which you would have to pay instead to the other spy methods. No need to pay for the extra information that you will get.
It offers different packages that provide different features to spy. The user can thus choose the package that suits them and get the results according to the paid value. Surprisingly, the user can get the free services for spying SnapChat. The trial version is available for the first 48 hours with access to few features. Later on, purchase The Truth Spy according to the package.
Continue your spying experience every month by renewing the subscription. With this much information, hope that you are satisfied with the truth spy for all your spying needs, and you can now purchase the plan as per your need. Snapchat offers the ability to delete the conversation within a specific time, and no other user can then read the messages. But, since truth spy works in real time, it offers the freedom to get the details simultaneously.
And if the user is not able to read them at that time then truth spy will save them for the later use. Snapchat multimedia files — pictures and videos can be a part of the conversation. The user may have wiped out the shared files because of the inappropriate content sent by the other person on SnapChat.
But they are still accessible by you. Snapchat calls — free video and voice call features of SnapChat is making the most out of it. People use it to save your monthly call plan as they can talk unlimitedly without worrying about the call rates.
How to Monitor and Spy on Snapchat
Hence, most of the calls are made by SnapChat. TheTruthSpy let you hear the conversation over the SnapChat call feature. You can even record them as well. The live discussion of the snapchat users is recorded in the good quality and sent over the device of truth spy user instantly. So, in no way, the secret of your teens, spouse or employees remain secret anymore. You will be in touch with all the activities of the SnapChat user.
The application completely monitors on all the version of SnapChat and the target device is now under the surveillance of truth spy. With its use, you can save your kids from any invited trouble. As the application is designed to perform other activities as well those are already mentioned. They want to know the conversation took place other than on mobile. Well, no such facility can let you do that if you are not near the victim. Only a guest spy can do that. Yes, with the ambient voice recorder you can hear the voice of nearby peoples in your absence.
It let you know what your colleagues or friends talk at your behind. Or to whom your kids talk to when they are in their class or outside with their friends.
How to hack a facebook account quickly.
Learn to install Tracking Software on mobile phone.
Cell Phone Spy Software Cell Phone.
It is beneficial when your kids are talking to some strangers that are trying to lure your kids. Parents can protect their children from such situation. For a proof what could be better than a recorded file. The guest spy can record the snapchat calls and normal calls for you so that you can present them as evidence at the time of final decision against the victim. A recorded call is best and useful results of snapchat spy or monitoring.
Give a command to the application to turn on the microphone to record the live call whenever you wish and get the file within no seconds. Download it later as everything is saved and secured at the panel from where only you can fetch the file, and nobody else has the access. Maybe the victim uses WhatsApp to chat with the secret person and use snapchat for talking with the friends whom you know.
All Feature GuestSpy Mobile Spy App
This WhatsApp spy feature let you extract the WhatsApp chats, calls and shared media files. Teenagers nowadays spare most of their time on WhatsApp; this annoys the parents. And if find something fishy then block the person on WhatsApp.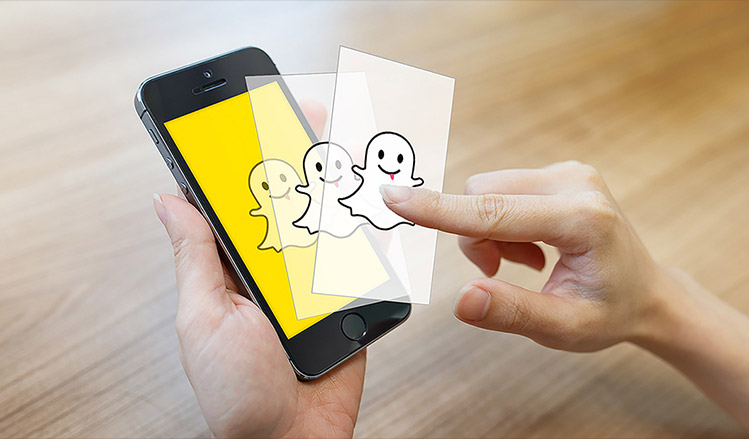 You cannot imagine that there are numerous of apps for communication. Thus, spying individually on these apps for spy snapchat messages or spy WhatsApp or any other apps is a waste of money and time. We suggest you try guest spy because it will give you a full choice to spy on any social media account of the mobile user. A guest spy user has the world of choices and ample of features that are not only efficient in spying snapchat but has the power to do things that no other spy apps can do.
Have you started thinking of the benefits you get from snapchat spy? Let, maximize the list of benefits that you have considered of introducing these ultimate benefits. Easy access to the mobile phone of victim Remote controlling that is not offered by other software. Do you often fight with your partner? Because of trying to clear misunderstanding but end up with nasty quarrels that disturbs your mind. If later on, you find that everything was fine and your doubt was useless and not real then you will regret but will not be able to change the situation.
Hence, try guest spy to analyze how much reality is there in your doubt? And protect your relations form unnecessary fights and blame. Working in an office with so many people is a hectic task, especially if you have rivals at the workplace.
5 Best Apps to Spy Somones Snapchat - Edition.
Tracking a Location Of a Cell Phone for Free.
.
Nine Easy Ways to Log Into Other Peoples Facebook Account.

It is the foolish act to trust on all your colleagues or employees as the world now demand to break all the rules to achieve your goals. People can go to any level to earn more profit; they are even ready to take wrong steps and cheat their friends or boss. Stop such people from harming your company and your competitors to know your plans and projects. A very big advantage to the parents is that they can monitor their grown kids without checking their phone on a regular basis. Because your kids may delete their secrets from their phone to hide them and thus you will never reveal the truth.

Also, having a problematic behavior on the children can make them feel offended. The best way is to secretly download the app and hide it, now spy snapchat chats of your kids without asking them what they do till late night with their tablets or phones. Have your kid dropped the cell phone in class or anywhere? In this era of digitalization, the technology plays a vital role. The inventions and innovation have made the life of the human easy and more advanced.

Features - SnapChat Spy - Spy SnapChat Messages

This technology also gives birth to the new software or applications. They are outstanding and offer excellent feature full experience to their users. The applications are designed for the smartphones because of which people can run everything on their phone.

Here we are talking about the social media platform, which is now available in the form of an app. With the help of this app, people use to see their account which they had created on the social media platform. Today many people take the help of the spying software so that they can see with whom their partner is chatting with; moreover, people also keep their children under their supervision. The employers are also using this application so that they can see whether their employees are doing their work on time or time. The app which is made for spying fetch all the messages of the victim phone and make it visible in front of your screen.

As we all are familiar with this fact that all work is now goes on a cell phone. Many people use to fix their meeting and dates through the social networking site or on the SnapChat. That means if you get success in hacking someone snapchat then you will surely get the correct details of the plans and information of the meetings of that individual. By this means an individual can easily keep control on their loved one and also on their children. Today there are lots of ways developed through which you can hack the mobile of an individual.

Forbidden - nginx

This you can do by calling to the app developers or hacking site and if you want you can perform pairing by yourself. The process is easy, and with that, they can quickly get into the reality of an individual. If we talk about the other method for pairing then for this you have to contact the app developers, there you have to request them that to pair your desired number or phone with your mobile.

How To Spy Anyone Phone calls, SMS, Whatsapp messages, Instagram, Snapchat iOS/Android iPhone, iPad

There you can do this work without any issue. Somehow the above mention method is simple and easy too.




How to Monitor and Spy on Snapchat | cvproteknik.com.
Release GuestSpy Android Spy Software Version 6.5.
Cell Phones Tracker Qwerty Keyboard Cheap Unlocked Mobile.
Top Spy Software for Spying on Android mobile.
SnapChat Spy - Spy on SnapChat Messages.

There you can watch all messages without any problem. No risk is involved in this process. There you can make the measure by which you can stay away from the conflict if there are any chances of its happening. In this smart generation, most of the people use to hide their personal messages so that no one can read it. People make use of the SnapChat for sending messages to others because it is counted as the cheapest mode of communication.

But now nothing remains in darken with this app everything gets into the light. In this digitalization world, the technology becomes so advanced and latest by which you can quickly spy on someone phone and can easily get the detailed information or text messages. For this, you need to download the spy application into your phone. The very first thing that you have is the internet connection; this will help you in downloading the app. Now go online and read start downloading this app once the downloading get finish, install the app on your phone.